[日本語]
On the first floor of Building A at the Sagamihara Campus sits the JAXA Space Education Center. The Space Education Center promotes STEAM education from kindergarten to high school students, using aerospace to inspire educational material. In April this year, the Space Education Center gained a new director. Kitagawa Tomoko (Dr Kate Kitagawa) moved from the UK to take up the appointment as Director of the JAXA Space Education Center, and has since been energetically engaged in promoting the centre's activities. Future plans for educational material include encompassing project activities at ISAS, with an eagerly anticipated collaboration between the JAXA institutes.
At Sagamihara Campus

Q: Kate, you've come to JAXA after more than 20 years of overseas. Can you tell us about your activities abroad?
A:It has been exactly 10 years since I published "Japanese History Abroad: Why a New Narrative?" (Shinchosha 新潮社); a Japanese-language account of the content of a history class that enthused students at Harvard University. I taught at Harvard University's Faculty of East Asian Languages and Civilizations until 2012, after graduating from Princeton University in 2009. Tracing my roots back to my college days in Canada, I've always been involved with Japan as a historian throughout my time living abroad. But for the last ten years, I've been based at the University of Oxford in the UK, focusing my research on the history of mathematics in the world, rather than the history of Japan.
Since I majored in science and mathematics at high school in Japan, and then mathematics and life sciences at university, writing on the history of mathematics on the global scale encompassed the large-scale theme of my research. It took me more than ten years to unpack, but finally a book on the global history of mathematics is due to be published by Viking (an imprint of Penguin Random House) in the UK around spring next year. A Japanese translation is due to follow.
While I was lecturing at Harvard, I visited the Apollo Lunar Module at the Smithsonian National Air and Space Museum in Washington D.C.. Standing in front of the module was breath-taking, and I felt as if I were enveloped by some mysterious force. From then on, I became obsessed with reading space articles online, and even began making simple rockets out of recycled materials such as paper cups to launch! My hobby became so big that I worked on the space exploration exhibit at the Science Museum in London, UK, in 2021. A childhood dream of "flying!" has always accompanied me as I've grown up, creating two different trajectories: the realistic idea of "flying" by living abroad, and an imagined "flying" from Earth to space.

In total over 23 years, I've lived in Canada, the United States, the UK, Germany, and South Africa, thinking in English and living in English. I never thought that I would come to Japan for a change in job this year! However, while this sudden U-turn might not have been the future I expected, it's a wonderful development for me. The open call for the position at JAXA's Space Education Center was to develop STEAM education (quite literally, science, technology, engineering, the arts and mathematics, which I love!) with material related to space and expand space education both domestically and internationally.
Q:
There was an open call for applicants for the Director of the JAXA Space Education Center, and you applied for the position?
A:Yes, that's right. This happened in the fall of 2021. It might sound over-the-top, but I felt that this was my chance to make the world a better place through education! Princeton University, where I received my doctorate, Harvard University, where I taught, and Cambridge and Oxford Universities, where I've conducted research, are all examples of places where so-called "selected people" gather. However, nowadays when it could be said that we have complete globalization, I am convinced that such "selective education" has limits. I felt it would be impossible to carry out a lifework that would really change the world if I remained confined to universities and evaluated students. I was grateful that I was able to give hundreds of lectures on history both in Japan and abroad for high schools, universities, and the general public, but only on the subjects of Japan and mathematics. With the theme of these subjects, there were limits to the range of people I could reach.
When I was teaching mathematics and history at the University of Pretoria in South Africa in 2019, I realized clearly that the education I envision was "Education for All" rather than a select few.

Education for All is one of the targets for SDGs (Sustainable Development Goals), which are international goals that should be achieved by 2030 in order to create a better world. I want to create a foundation with space education that gives "quality education to all (goal 4)". In order for humankind to survive the 21st Century, it is absolutely necessary to not only provide quality education to select people, but also to spread quality education widely throughout the world to allow everyone to grow. At the University of Pretoria, I met students whose eye lit up as they listened to lectures. I am convinced that there is a high demand for education around the world.
After this long discovery process, it was serendipitous that the open call for the position as the JAXA Space Education Center Director coincided with my thoughts on education, and I decided to apply for the role.
After the application screening, I had an interview that was to be held online, but due to the time difference, this started at 7am UK time! Since I always get up early, I thought a 7am interview would not be any problem. But then something unexpected happened. Although I felt prepared, I hadn't spoken Japanese for quite a while and I couldn't immediately switch from English into Japanese. I struggled to find the words for my answers, and there were times when I ended up speaking in English. Of course, after talking for 5 or 10 minutes, my Japanese improved, but the languages were so confused in my head that I was certain that I would never be hired and felt devastated.
Fortunately, it seemed everyone had understood my enthusiasm, motivation and the plans I had for the future and I got the position. But since we will hold various lectures and events from now on, I cannot continue to talk in baby Japanese and I am now in the midst of serious Japanese language training!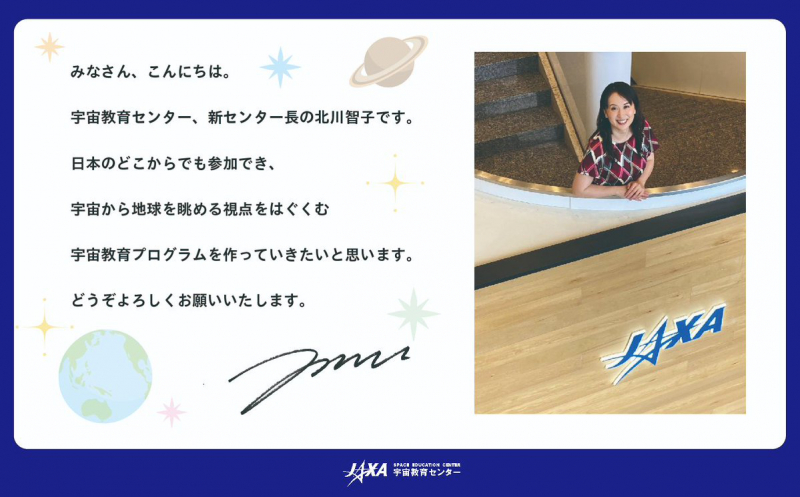 Q:So your interest is focussed on education, rather than maths or history?
A:Yes, that's right. To me, education is a series of processes that involve "examining the events around us to identify the core of an issue, listen to the opinions of many people, and acknowledge each other's differences." I know it's an abstract expression, but I think education is the training to be able to handle this process at any time or place.
There are many different teaching methods. And there should be different methods. What underpins education is communication between the those who teach and those who receive. I feel that the ideal learning environment is for the educator to encourage two-way dialogue by providing material that makes you think, deepens those thoughts, and get a good grip on the subject. There is a lot of material that can be explored in the realm of aerospace. It can be an object like an aeroplane or spacecraft, or it can be a very big question like a paradigm for the creation of the Universe. Space is a magnificent theme as it is full of mysteries, so rather than teaching what is known, I would like to aim for space education that fosters an attitude of reaching out to the unknown.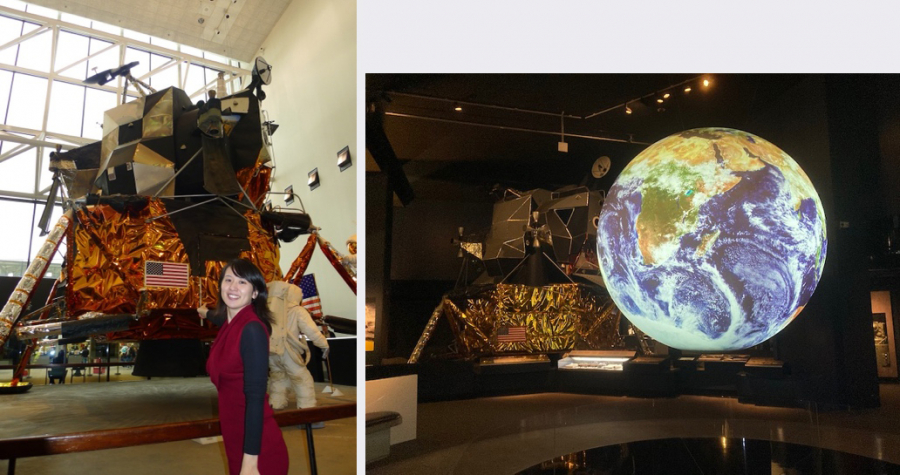 Space science and space exploration are such vast fields of study that the Space Education Center must also decide on a number of themes to prioritise. At present, we are focusing on three particular themes.
The first of these is climate change. Confronting climate change and global warming is the raison d'être (reason for being) for aerospace science. JAXA is expected to make major contributions in this area, from Earth observations and development of aeroplanes that reduce carbon dioxide emissions. Many JAXA members spend their days trying to tackle the climate change situation and thinking about how to handle it.
The second theme is planetary defence. Objects such as meteorites are frequently flying towards the Earth where we live. We might think that such an extraordinary event could never happen to us, but if you actually observe these objects, you will be amazed at the number of asteroids that are flying close to the Earth. Accepting that we live in such a Universe is essential background for building a "cosmic perspective" and a key element in considering our own place in the Universe. This makes it a natural pillar for education.
Our third focus is the Moon. A mission to the Moon is currently underway at ISAS, and I would like to increase the number of educational events focused on the Moon. There are other planets such as Mars and Saturn that we would like to focus on in the future, but for now we have placed the Moon at the top for educational material.
Q:
Are you also looking to collaborate with overseas organisations?
A:That's right. The first plan is a collaboration with institutions in Europe, the United States and Southeast Asia. There are several reasons for this. In terms of creating educational material, we would like to increase the number of English-language options and create opportunities for students to be exposed to more languages other than English. This is because, although English is the most commonly studied foreign language in Japan, there are of course many other languages! I've studied French, German and Chinese and I felt these broadened my horizons. But I still do not understand languages used in Southeast Asia, and I'd like to learn more of these. I hope by learning several foreign languages, more people will find it easier to understand English, even if they previously found it difficult.
To create easy English teaching material, we are working on "Seven Wonders of the Moon" with Associate Professor Elizabeth Tasker at ISAS and Nikaido Toshihisa, who directs the ISAS podcast. The Seven Wonders of the Moon is a short English-language resource, where each wonder is a podcast of about one minute, providing a total duration of 7 wonders in about 7 minutes. The podcast will be available from June 25 on the Space Education Center's new English website. Scripts are also available on the website, so please do try these for learning English.
In parallel, a French version covering the "Seven Wonders of Mars" is being developed by Mars exploration scientist, Professor Jean-Pierre Bibring, who visited ISAS recently. Each wonder is also about 1 minute long, and the total duration of the podcast is about 10 minutes.

Southeast Asia is also important for international cooperation. The Space Education Center leads the education subcommittee at APRSAF (Asia-Pacific Regional Space Agency Forum). We should be a good neighbouring partner, thinking and cooperating together, as we are regionally close, and gain insights from the space development in East Asia, which is advancing in parallel with the larger space agencies in Europe and the US. The Space Education Center will also hold international exchange events and research seminars that focus on Southeast Asia. Please join us for these!
Q:Do you think events such as those held at the Sagamihara City Museum and JAXA Communication Hall of Space Science and Exploration for "Hayabusa2 Week" from June 11 - 19 are important for education?
A:Yes. My goal is Education for All! Until now, the Space Education Center has mainly focused on collaborations with school classes and supporting social activities, but we want to introduce new methods to create the foundation for all-Japan space education.
The idea is generally referred to as EduTech, which combines education and technology. While human-to-human teaching methods remain important, technology in Japan is nowadays being incorporated into school education, with students from elementary school having electronic devices. I think it's an urgent task for the Space Education Center to provide new kinds of hands-on learning methods that allow students to self-study and do homework with electronic devices.
For a start, we plan to provide podcasts and short movies that can be easily watched on the internet, and which introduce JAXA projects and missions with included educational elements. We are also considering VR, AR and machine learning and AI in the future. Of course, we cannot do everything right away, so right now we are at the point of "getting started". But from now on, we will continue to build steadily more prototypes, and give people the opportunity to try these out.
During Hayabusa Week from June 11 - 19, visitors enjoyed the VR programs, "Ski jumping on the Moon" and "Moon rocket tour" that were developed by GREE Co. Ltd together with JAXA's business development and industrial relations department and Space Education Center. Also, many parents and children participated in a programming class on the theme of Hayabusa2, that was co-sponsored by Nojima and the Sagamihara City Museum. 

Q:
From June 25, an exhibition about the Moon (Sagmihara and the Moon vol. 2: the moons of the planets in our Solar System) will begin at the Sagamihara City Museum in collaboration with ISAS. Will the Space Education Center be involved, as one of your main themes is currently the Moon?
A:Yes. The Space Education Center will co-host with Sagamihara City Museum a VR event "Jump on the Moon!" in conjunction with International Moon Day (IMD) on July 21. We have other exciting plans that have not yet been announced, and in the next few years we want to flood you with teaching materials and projects related to the Moon. Do check out the activities at the JAXA Space Education Center! Thank you!

<profile>
Kate Kitagawa is Director of the Space Education Office at the Japan Aerospace Exploration Agency (JAXA). She is passionate about developing STEAM programmes on the theme of space and aeronautical science and is working to enhance the space education all over the world. Her educational background is mathematics, life sciences, and history, and she has worked in diplomacy. She has a doctoral degree from Princeton and taught history courses at Harvard University. She has written six books in Japanese; her debut book in Japanese became a national bestseller in Japan. She has researched the history of mathematics and the history of space exploration at the University of Oxford, the University of Pretoria, and the Science Museum, London, from 2018 to 2022, before moving to JAXA.
(2022/07/06)