[日本語]
Dr Brian May (astrophysicist and guitarist from the British rock band, Queen) has long been a strong supporter of the Hayabusa2 asteroid exploration mission. For the release of his solo album, "Another World", May has created an art book that encompasses fan art (Bri-Art) from contributors around the world. The works of 207 artists were selected, including an illustration by Japanese artist Kayo of Brian May with Hayabusa2!
We asked Kayo about this work and Hayabusa2.
Q: Kayo, could you please explain this composition?
A:I wanted to give a bit of perspective to Hayabusa2, which has dropped a capsule containing the precious samples collected from Ryugu and then left on another mission in deep space, and really try to express the feeling "Another task to do! I'll do my best!" The main image of Brian is of a kindly scholar watching over the mission. I planned to put some kind of logo in outer space to make it look like a poster, but I was worried that I was running out of time.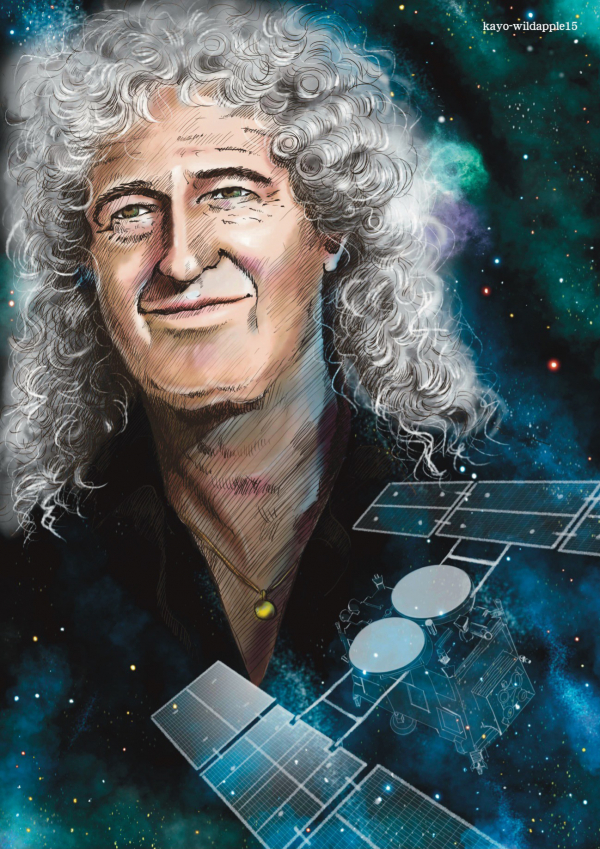 Q:
Are you a fan of Brian May and also a supporter of Hayabusa2?
A:Of course, Japan should be very proud of the global impact of the Hayabusa2 Project, and I have been a supporter since the first Hayabusa! Thinking of the first Hayabusa mission, I was impressed when the spacecraft returned to Earth at the end of a difficult and long journey. I was so moved by the part where, knowing that Hayabusa would enter the atmosphere and the main body would burned up, the camera was turned towards the Earth so as to finally show the Earth to Hayabusa at the end. I still remember being moved to tears and saying "thank you for your hard work". And Hayabusa2, which collected a part of asteroid Ryugu and returned this to Earth, was an unprecedent mission that was watched by the whole world, and in particular, Dr Brian May. I have such respect for the passion, patience, and dedication of the researchers and engineers who are able to do such a big job.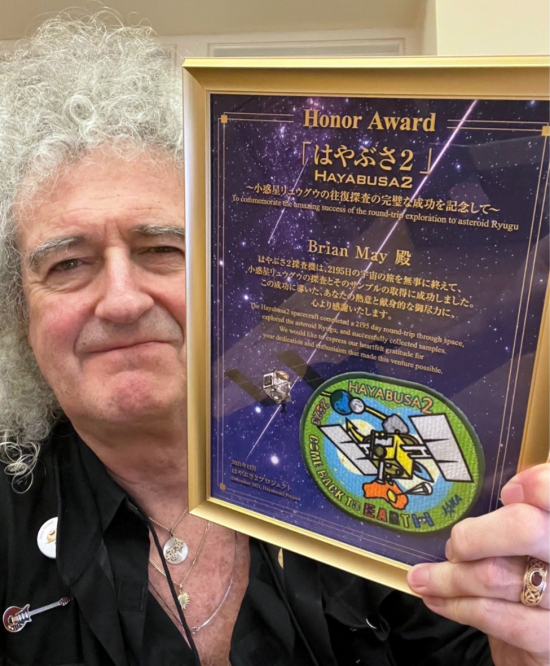 When I heard about the call for art works for the "Another World" Bri-Art collection, I was thinking if there might be something Japanese and suddenly thought, "Yes! There is Hayabusa2 in Japan!". This felt like a representation of Japan that can only be found in Japan. However, I did not expect to be selected, because there would be a flood of applicants, as well as a large number of professionals participating...
In truth, I have not been a fan of Brian May for a particularly long time. It all started for me due to Nyango Star, who is the unofficial mascot of Kuroishi City in Aomori Prefecture, and Kuroishi Tourism Ambassador. Nyango Star is a super drummer, known in both in Japan and abroad! I am a big fan of Nyango Star, and on August 29, 2019, Brian May suddenly posted a video of Nyango Star on his Instagram, which caused a big fuss, and that was how I got to know Brian May, Queen, and the plans for the "Another World" Bri-Art collection. So I decided to draw Hayabusa2, and I'm grateful to Nyango Star for creating this opportunity! I think it would be great to have a session with Nyango Star and Brian.
Hayabusa2 is now heading for the 1998 KY26 asteroid, and it seems like there will be again big challenges ahead. I am looking forward to the day when the spacecraft completes another rendezvous with another asteroid. Keep it up, Hayabusa2! Let's ROCK ON!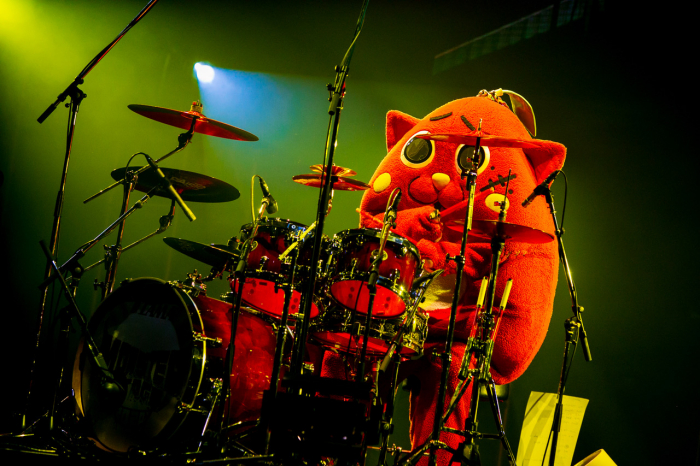 Q:
Any thoughts on "Art and the Universe"?
A:I think the very existence of the Universe is a magnificent art. However, it is like a museum without an audience. I am looking forward to the coming space era, when we humans can be the best audience to Another World, the Universe.
(2022/06/17)