Japan Aerospace Exploration Agency has agreed to cooperate with Centre National d'Etudes Spatiales (CNES) on the study-phase activities in JAXA's Martian Moons eXploration(MMX) mission and analysis of Hayabusa2-returned samples.
Hiroshi Yamakawa, President of JAXA and Jean-Yves LE GALL, President of CNES signed the two Implementing Arrangements for MMX and Hayabusa2 cooperation on June 26, 2019.
On the occasion of the visit by Mr. Emanuel Macron, President of the French Republic, to Japan, the exchange ceremony of the signed two Implementing Arrangements took place at the Prime Minister's Office of Japan in the presence of Prime Minister Shinzo Abe and President Emmanuel Macron.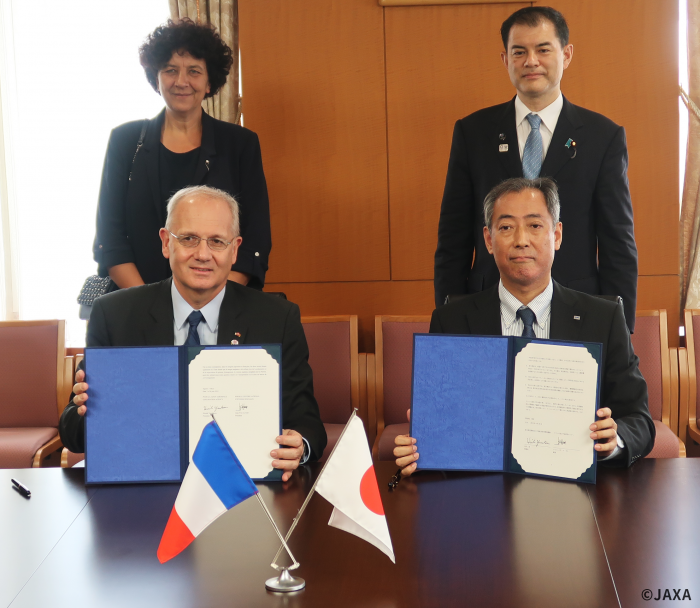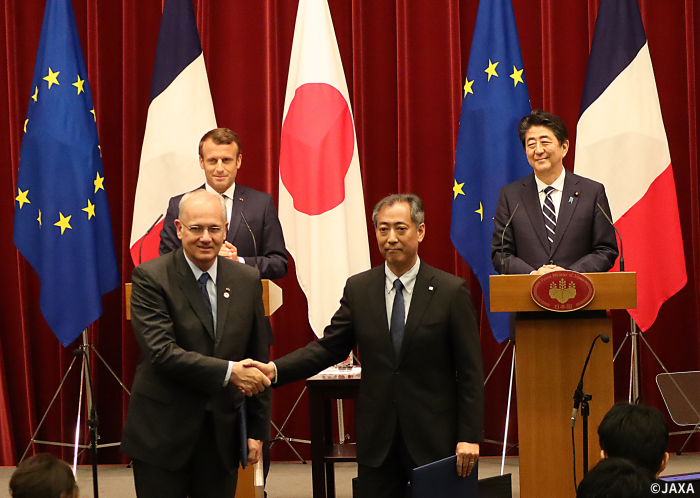 About the Implementing Arrangement concerning cooperative activities related to Martian Moon eXploration (MMX) mission studies
The MMX mission is planned to observe Mars' two moons, Phobos and Deimos and to collect surface material from one of the moons to bring back to Earth. It aims to clarify the origin of the Martian moons and the process of evolution for Mars region and to improve technologies required for future exploration.
MMX is currently in the phase of preparation for developing a spacecraft and the launch is targeted in FY2024.
CNES will contribute to this mission by providing the near infrared spectrometer (MacrOmega) and the knowledge and expertise of the Flight Dynamics, as well as by conducting studies of rover which is to be equipped on MMX spacecraft jointly with German Aerospace Center (DLR).
For more information on MMX, visit:
About the Implementing Arrangement concerning cooperative activities related to analysis of Hayabusa2 return samples by MicrOmega at JAXA Extraterrestrial Sample Curation Center
Hayabusa2 is a successor of Hayabusa. By investigating the asteroid Ryugu(type-C asteroid)and collecting samples for return to Earth, it aims to clarify the origins and evolution of Earth as well as organic materials that formed the oceans and the life.
Hayabusa2 was launched on December 3, 2014 and arrived at Ryugu in June 2018. It is scheduled to return to Earth at the end of 2020.
Under this agreement, CNES will provide the infrared spectroscopy microscope (MicrOmega) to be equipped in JAXA Extraterrestrial Samples Curation Center. It will contribute to improve the analysis of asteroid samples. In addition, this agreement stipulates the data policy which defines how to share and manage data from the MicrOmega.
For more information on Hayabusa2, visit: