On May 25, 2023, a delegation from CNES headed by Dr. Philippe Baptiste, Chief Executive Officer, visited ISAS at the JAXA Sagamihara Campus and signed "Implementing Arrangement between JAXA and CNES concerning Cooperative Activities related to Analysis of Return Samples by MicrOmega at the JAXA Extraterrestrial Sample Curation Center (ESCuC)".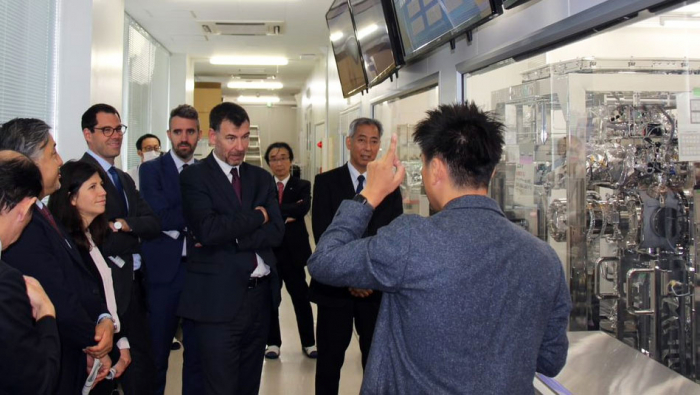 Summary of IA
In accordance with the Implementing Arrangement on cooperation that was concluded in June 2019, CNES has provided JAXA ESCuC* with their infrared spectroscopic microscope (MicrOmega), which has contributed to the advanced analysis of the sample from asteroid Ryugu returned to Earth by JAXA's Hayabusa2,
CNES and JAXA agreed to extend the same joint research and will apply MicrOmega to the analysis of another returned sample, that from the asteroid Bennu, which will be brought to Earth by NASA's OSIRIS-REx mission. This extended activity is expected to strengthen the good relationship between Japan and France in science.
* JAXA Extraterrestrial Sample Curation Center (ESCuC)
ESCuC was established in 2007 and is the only facility in the world where precious asteroid samples have been collected for research. ESCuC provides researchers all over the world with samples through the ISAS AO. Many of these studies have resulted in excellent results and a number have been introduced in a special issue of "Science" magazine.
For more information, please visit: