Visiting

Information
The Exhibition Hall may be temporarily closed as we respond to the current situation. Please check our calendar for the latest information. Opening hours are from 10:00 a.m to 4:00 p.m.
Since 2020, the situation has been different from usual. Visitors are not able to use the campus cafeteria, and we ask everyone to wear a mask at all times while on the ISAS Sagamihara Campus. Restrictions may be adjusted, depending on the situation.
Thank you for your understanding.
Feel Close to Space at the ISAS Sagamihara Campus
The ISAS main campus is located in Sagamihara City. ISAS hosts regular open campus events as a part of ISAS's outreach and education program. Admission is free, and there is free but limited car parking.
Opening hours
Opening hours are from 10:00 a.m to 5:30 p.m. Please check our calendar for the latest information.
Food, Beverages and Souvenirs
There are self-service vending machines with cold drinks and coffee in the Exhibition Room, with a common area for sitting down and taking a rest. You are also very welcome to use the outdoor benches to consume food and drink brought from home. During lunch time, you can use the cafeteria. There is a shop operated by the University of Tokyo CO-OP ISAS that sells souvenirs as well as lunch boxes, sandwiches, drinks and refreshments. The shop is open from 10:00 a.m. to 4:30 p.m., on business days.
Additional information
Please refrain from entering areas and facilities that are not open to the public.
Assistance dogs (such as service dogs and guide dogs) are allowed on campus.
Please use the outdoor benches for eating and drinking.
Please take all your garbage back home with you. Thank you for your cooperation.
Smoking is prohibited on campus except in the designated smoking area.
Regular open areas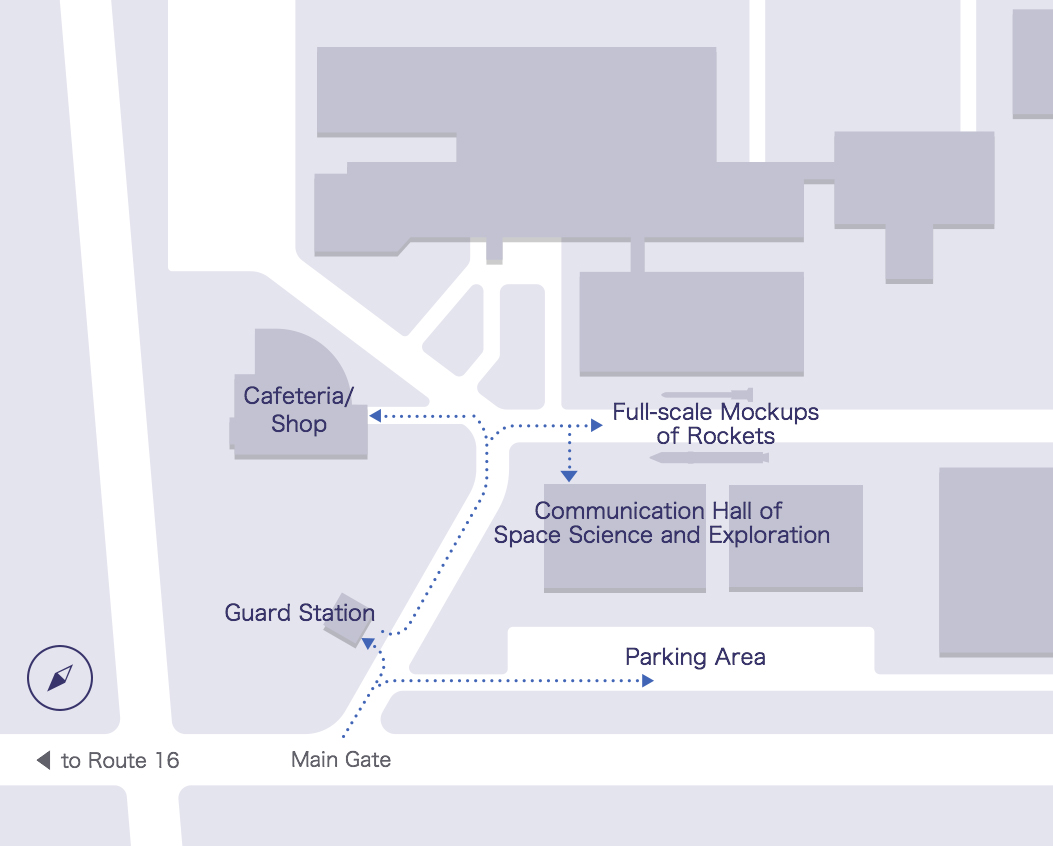 Highlights
Communication Hall of Space Science and Exploration
The Communication Hall of Space Science and Exploration is the ISAS visitor center, and a facility established to encourage universities, research institutes, and private enterprises to participate in the Space Exploration Innovation Hub activity, which focusses on industry–academia collaborative research.
In addition to introducing technological developments and academic research achievements in space science, the Communications Hall functions as a platform where positive exchanges of opinion and interactions can occur. Compared with other widely utilized exhibition rooms, this facility is a space wherein more people can come to learn about the research and development for space science and exploration.
Outdoor
Meet full-scale models of M-V and M-3SII Rockets with explanation panels.