Japan Aerospace Exploration Agency has agreed to cooperate with German Aerospace Center (DLR) on the study-phase activities in JAXA's Martian Moons eXploration (MMX) mission.
Hitoshi Kuninaka, Vice President of JAXA and, Hansjörg Dittus and Walther Pelzer, Executive Board Members of DLR have signed the Implementing Arrangement at the Paris Airshow in France on June 18, 2019.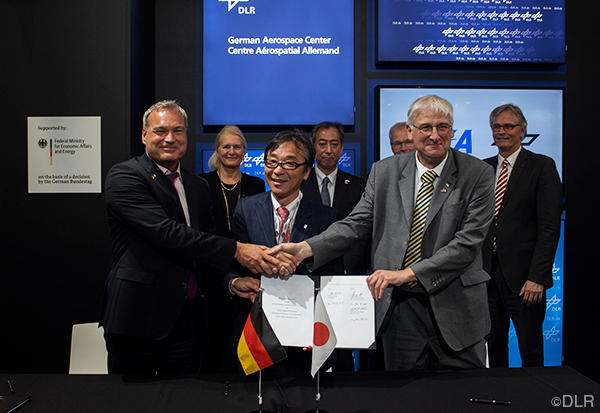 The MMX mission is planned to observe Mars' two moons, Phobos and Deimos and to collect surface material from one of the moons to bring back to Earth. It aims to clarify the origin of the Martian moons and the process of evolution for Mars region and to improve technologies required for future exploration. DLR will contribute to this mission by conducting studies of the rover which is to be equipped on MMX jointly with Centre National d'Etudes Spatiales (CNES) and by providing JAXA with opportunities of experiments using the Drop Tower in Germany. DLR will also support German scientists for their participation in the MMX mission.
MMX is currently in the phase of preparation for developing a spacecraft and the launch is targeted in FY2024.
For more information on MMX, visit: MMX Web Site.