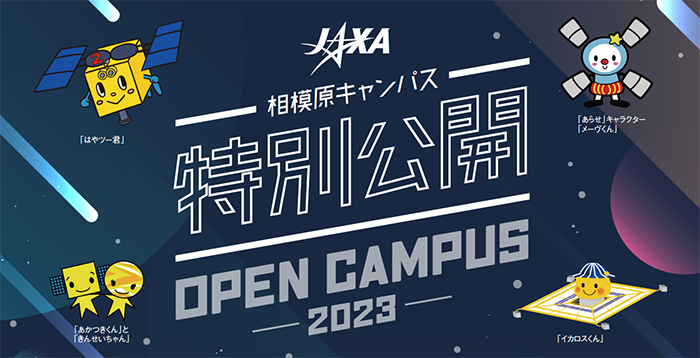 The 2023 special exhibitions will be held on-site during the first day, and online during the second day. Researchers and staff members will ingeniously introduction their activities here on campus over both days. Please join us!
Special exhibitions (on-site)
Admission is by advanced reservation (first-come, first-served basis).
There are also events that require advanced registration, and events where a numbered ticket will be distributed on the day.
Please present the screen or printout of your reservation email when entering on the day.

Date & time
November 3, 2023 (Friday / holiday) 10:00~16:30
Venue

JAXA Sagamihara Campus
Sagamihara City Museum (opposite JAXA Sagamihara Campus)

Access
Traffic access
Area map (Japanese) [PNG: 86KB]
Congestion is expected, so please use public transport if possible.
Social feeds
X (Twitter)(@ISASopen)
※ do share your impressions and comments with the hashtag #ISASopen!
Inquiry
JAXA Sagamihara Special Open Campus Secretariat
ISAS-OPENCAMPUS*ml.jaxa.jp
※ Please change「*」to「@」before sending.
Admission reservations
(open from noon on Tuesday October 10)
Registration has been closed.(Last update: November 3)
10:00〜16:30, 4,500 people capacity (first-come, first serve) (campus free admission)
※ An email address is required for reservation.
Event application
(open from noon on Tuesday, October 10)
Registration has been closed. (Last update: October 27)
Events that require advance registration (Japanese):
Let's take a look at the work at JAXA(workspace tour)[Meet at the Sagamihara Museum's 1F entrance hall]
Experience Lunar Craft(workshop) [Sagamihara Museum conference room, 1B (basement)]
Sign language guided tour [Meet at the general information point]
Event numbered tickets (distributed on the day)
※ Please see here for the special online talk program for 11/4 (Sat) (in Japanese)