Department Chair
About us:Department Chair
World-leading, cutting-edge research in space science and engineering
SOKENDAI is a university which has only a graduate course. It is based on the inter-university research institutes in Japan, and does not have its own campus. Students at SOKENDAI study and conduct research at the institutes. Main purpose of SOKENDAI is to bring up researchers.  For this purpose, SOKENDAI provides top-level professional education in the world and also general education for broad mindedness. Here, researchers mean not only those working at universities, but also a wide range of research workers in laboratories including private companies.  SOKENDAI brings up researchers who have high capability in their specialty as well as a wide knowledge and understanding in various fields.
Department of Space and Astronautical Science, School of Physical Sciences, is based on ISAS/JAXA.  More than a half of the researchers in ISAS belong to SOKENDAI. Thus, the department covers effectively all the research fields of ISAS, i.e. astronomy and astrophysics in various wavelengths, exploration of solar system, engineering related to space flight systems, satellites and explorers, and space utilization. The department advances the world-leading research as a unique bases of space science and engineering in Japan.
What is merits of studying at the department of space and astronautical science of SOKENDAI? Various space projects are conducted at ISAS, and students at SOKENDAI can join the project related research to experience practical research during the graduate course. Furthermore, because both science and engineering students belong to a single department, interchange among the students naturally develop broad mindedness. Student support program is well prepared such as research assistant in addition to the department specific special scholarship. I expect that highly motivated students choose our department of SOKENDAI, which has ideal environment to become world-leading researchers.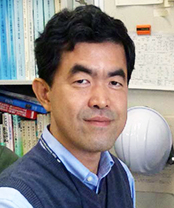 Chair of Department of Space and Astronautical Science
Prof. Tadayasu Dotani