TOP > Topics > 2011 > Wernher von Braun Memorial Award for HAYABUSA

HAYABUSA project team recieved Wernher von Braun Memorial Award
On May 20th, the National Space Society presented the Wernher von Braun Memorial Award to the HAYABUSA project team at the 2011 International Space Development Conference (ISDC), held at the von Braun Center in Huntsville, Alabama. The award recognizes "the first round trip to and sample return from the surface of an object in solar orbit".
An immigrant from Nazi Germany to the United States, Dr. von Braun was a rocket scientist and one of the leading figures in development of rockets, including the Saturn V used in the Apollo program to the moon. In 1971, he visited Kagoshima Space Center in Uchinoura, Japan, just after the launch of the first Japanese satellite OSUMI and had a discussion with Dr. Itokawa.
This honorable award shows that space development and exploration of the solar system in Japan are well recognized by the United States and also by the worldwide community. Dr. Itokawa built the foundations of Japanese space activity and was sometimes mentioned as a Japanese counterpart of Dr. von Braun. Our research also stems from Dr. Itokawa's activities, which led to us receiving the memorial award of Dr. von Braun.
Dr. Matsuo, Dr. Uesugi and I attended the gala award ceremony and received a model of the von Braun Ferry Rocket beside one of the Saturn V rockets. Dr. Matsuo gave a brief history of space exploration in ISAS, and Dr. Uesugi introduced episodes from the relationship between Dr. von Braun and Dr. Itokawa along with rare pictures of them. I was very moved by the standing ovation we received after the ceremony.
This award will encourage not only the project team to take on more challenging missions, but also the Japanese community now struggling to recover after the devastating earthquake and tsunami.
Jun'ichro Kawaguchi, HAYABUSA project manager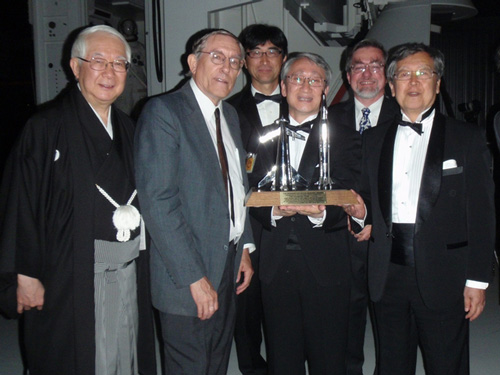 From Left to Right: K. Uesugi, J. Strickland, K. Kamimori, J. Kawaguchi, J. Mankins(NSS), H. Matsuo