Reusable Rocket Vehicle Test: The 5th Static Firing Test
"Go ahead liquid oxygen. Where's Mr. Shida?" "He's on call."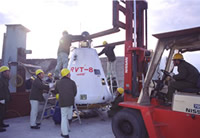 One and half years have passed since the 2nd Take Off and Landing Test in June 2001. During the period, a variety of basic research for new technological elements has been undertaken and the research circle widened to outside ISAS. The research includes: changing the cryogenic propellant tank to composite material: distortion measurement using optics to monitor the state of the composite tank; and a new injector fabricated by electroforming to enhance engine durability. The new injector was developed with the partnership steering office of the three space agencies. To conduct the flight test incorporating the outcome of these new elements, the engine firing test was carried out again with the entire flight configuration assembled. Alongside these new technological elements, a reduction in weight, renewed onboard equipment, etc., were also employed on the vehicle to expand flight range and allow repeated flights. While vexed by the quickly changing weather, which changed from spring to winter with cold winds and hail, we performed a total of six firing experiments as planned, knowing that there was little time left before the end of the fiscal year. We confirmed the performance and obtained data for the next take off and landing test. Although it was the first time we had fired while under-filling hydrogen with the composite material tank, the test was successful.

I sincerely thank all those engaged in the test including:
Mr. Shida, who ordered oxygen after filling liquid hydrogen with the tank;
Mr. Tokudome, whose sighs revealed to on-site HQ how bitterly cold it was at the stand point;
Mr. Suzuki, who worked at the factory keeping the command call line open;
Mr. Takeuchi, who struggled with the tank's hydrogen leak;
Mr. Mochihara, who was always relaxed;
Engine team members who performed every chore; and
Stand team members who fabricated everything immediately.
Now, we start preparing for the reflight planned for the end of June.