Three awards at an international conference! Positiveness and Language Proficiency Cultivated in Global Laboratory - Interview with the 33rd ISTS award winners: Mr. ITO Daichi and Dr. PUSHPARAJ Nishanth
May. 25, 2022 | ISAS people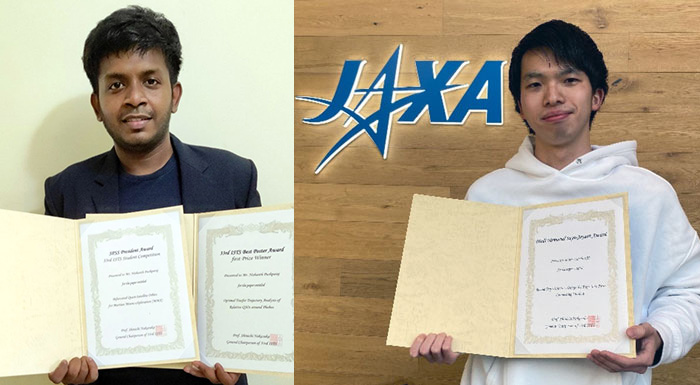 At the 33rd ISTS (International Symposium on Space Technology and Science) held on February 26 - March 4, 2022, ITO Daichi and PUSHPARAJ Nishanth won the Student Session Awards! In this article, they talk about how they feel about receiving the awards and what's going on in their lab! They are both members of KAWAKATSU Yasuhiro laboratory and sometimes work on the same projects.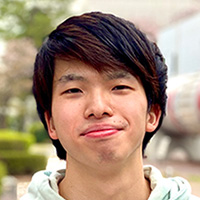 ITO Daichi (Department of Space and Astronautical Science, Graduate University for Advanced Studies/KAWAKATSU Lab, 2nd year of five-year doctoral program)
ITO received the Modi Memorial Jaya-Jayant Award at the 33rd ISTS for the paper "Round Trip Trajectory Design by Trajectory Parts Connecting Method", in which a method to improve the efficiency of trajectory construction and the three-dimensional understanding of the flyby trajectory.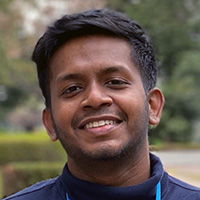 PUSHPARAJ Nishanth (Department of Space and Astronautical Science, Graduate University for Advanced Studies/KAWAKATSU Lab, 5th year of a five-year doctoral program)
PUSHPARAJ received two awards at the 33rd ISTS. One is the Society for Promotion of Space Science (SPSS) President Award for the paper entitled "Bifurcated Quasi-Satellite Orbits for Martian Moons eXploration (MMX)." The other was the Best Poster Award (1st Prize) for "Optimal Transfer Trajectory Analysis of Relative QSOs around Phobos."
What made you decide to get involved in trajectory design?
ITO: I first became interested in space when HAYABUSA returned to Earth. As a seventh grader in junior high school, I witnessed the return of an object from space, and I felt that space, which had seemed so distant to me, was connected to the earth. I decided to get involved in trajectory design after being impressed by the research of Dr. KAWAGUCHI Junichiro, the project manager of HAYABUSA at the time, and also by the beauty of trajectory design as described by Dr. OZAKI Naoya, a Specially Appointed Assistant Professor in KAWAKATSU Lab, at a lecture I attended in my third year at university. I thought the process of designing trajectories while taking into account various factors such as the positioning of the planets and the effects of their rotation, was just cool.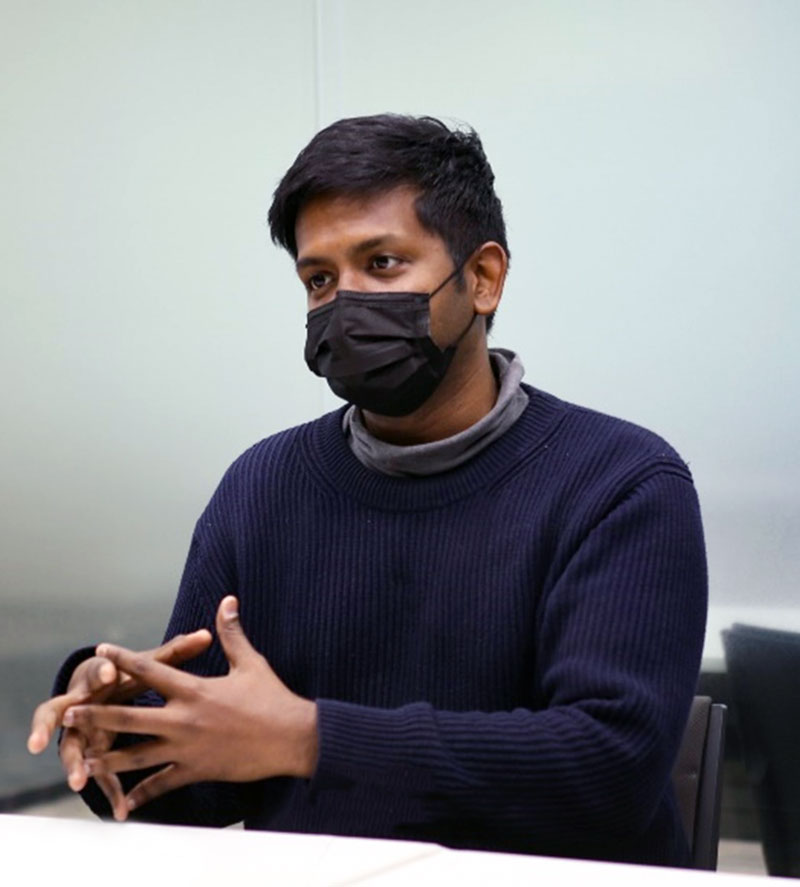 Nishanth: I grew up watching rocket launches because my house was about 20 km from the launch site. I didn't know what they were doing as a child, but that is what sparked my interest anyway. Then I studied aerospace engineering because I wanted to know what was happening. I had wanted to be an astronaut, but trajectory design had the allure of going anywhere, including places manned astronauts could not travel. The reason I came to ISAS is that even students have the opportunity to be involved in basic research that leads to projects. I liked the KAWAKATSU Lab environment because it had a good balance of the number of Japanese and international students, and many of them speak English.
Have you ever had a difficult time in your research?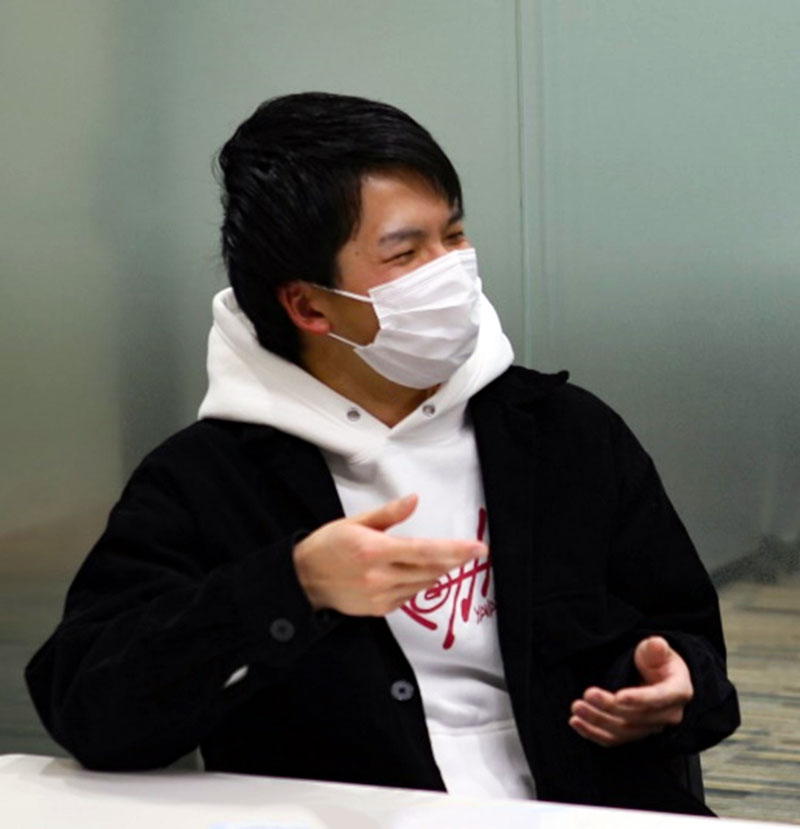 ITO: I think this is a common occurrence in the analytical field, but there have been times when programs did not work at all, and I suffered. I entered the school with the COVID-19 pandemic, which coincided with the breakdown of the air conditioner in the laboratory. Since I was in a slightly isolated room and it was difficult to talk to my seniors about my problems, it was a time when I felt alone. Also, the official language of our laboratory is English, and I had difficulties in having all communication in English. There were times when I was depressed at the beginning. I was forced to talk to Nishanth around October of my freshman year when I started working on a research project with him, and now those worries are all but gone! I think it was thanks to our regular conversations that I was able to confidently give presentations and answer questions at the ISTS international conference. Nishanth loves to talk and speaks to me in English, so my listening and speaking skills have improved considerably.
Nishanth: When we go to international conferences, we receive questions in English, and have to respond to them without running away from them. I try to talk to them a lot to help the juniors in those situations. I was shy at first, but I was brought up by the seniors. But lately, they are starting to avoid me a bit because I keep talking all the time without letting them go!
ITO: I have never seen Nishanth in trouble with his research.
Nishanth: I have never had any difficulties in terms of research. In terms of my personal life, I sometimes feel depressed because I can't return to my home country as much as I would like, and it is difficult to spend time away from my family. But I love it here so much that if I'm I asked what I like about Japan, I would answer " Fuchinobe (location of the Institute of Space and Astronautical Science (ISAS) Sagamihara campus)"! I was really in the lab all year round. It's a really good environment for students, and I haven't had any research problems whatsoever! Due to the time difference, I usually talk to my family only after 9 p.m., so I have whole day. Before pandemic, we had lunch with lab members every Wednesday, and Prof. KAWAKATSU kindly offered us for advice on matters other than research.
How did you feel about the international conference venue, ISTS?
ITO: Professor KAWAKATSU carefully guided me on how to make presentation slides, and I knew that my English would be understood, so I was able to do my presentation without worrying so much. Nishanth was positive enough to ask questions for all the presentations, and he even sent me a message saying that I should ask questions as soon as possible, which was inspiring. After the session, he told me what his intention was in asking the questions, and I would like to make use of those and actively ask questions in the future.
Nishanth: I learned the importance of asking lots of questions at the intensive SOKENDAI Freshman Course offered to newly-enrolled students. Sometimes I simply ask about what I want to know, but the intention is to show the presenter how much the listener has understood. If it were me, I would be worried that no one would understand me if no one asked me questions after my presentation. Other participants may be facilitated in their understanding by someone else's questions. If questions come in, they can facilitate the research, and I would rather ask more and more questions than to have questions in my head.
What did you do when you found out you won the award?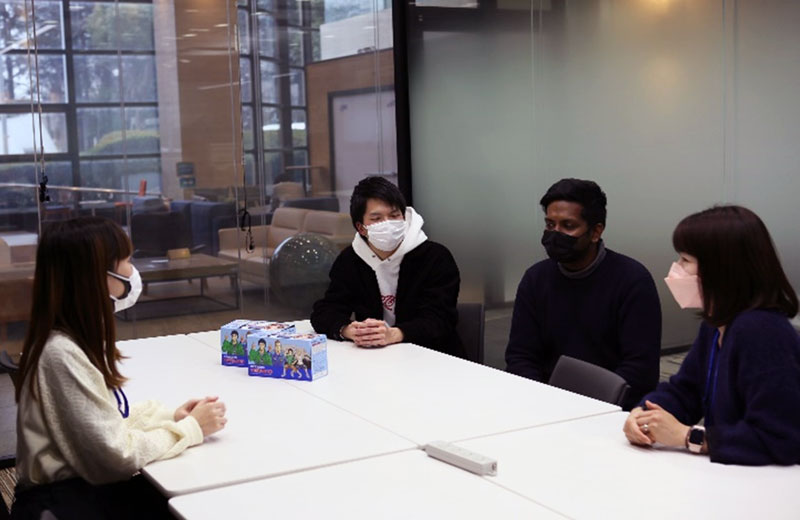 ITO: I was really surprised! I was watching the online ceremony at home without any expectations because some of the presentations I saw other than my own made me feel the difference in advanced research. When my name was called and my name appeared on the screen, I was thinking "What⁉", and I received a message from Nishanth saying "Congratulations!" I kept asking, "Is it true?" for a while and I was skeptical, but as I exchanged e-mails with the management, I realized that I had really won an award..." When I reported the results to Professor KAWAKATSU, he said that it was good that I was able to present in English with confidence and that the question-and-answer session was well organized. In fact, at the master's thesis presentation held just prior to the ISTS, I had been pointed out that the Q&A had not expand our discussion enough, so I was eager to actively discuss the issue at the ISTS. I am very happy if they appreciated those points.
Nishanth: I wanted an award, because I was close to graduating and had some good results from my long-term research.
When I was out with a happy feeling after confirming the first award, I received a message from Mr. ITO saying, "Congratulations on your second award! It's the 1st prize." I was surprised, but sure enough, I received emails for two awards! I was very happy.
Any future career plans?
ITO: I still have three years left in the doctoral program, so I will continue to study in the KAWAKATSU Laboratory. I have not yet decided exactly what I want to do beyond that, but I want to be someone who can promote deep space exploration, which is what got me interested in this field in the first place. I would like to do my best to use all my knowledge of trajectory design and mission design, as well as all the knowledge I have, to advance space missions.
Nishanth: After graduation, I joined Kyushu University as Post-doctoral researcher and recently offered a position at the University of Nottingham, UK and will continue my research activities. This is the first time I have spent such a long period of time outside of my home country. I consider Fuchinobe like a second home, so I am a little sad to go to far away, but I will do my best as a step toward my dream to have my own laboratory. I am interested in teaching others, and I hope to be able to convey what research is all about.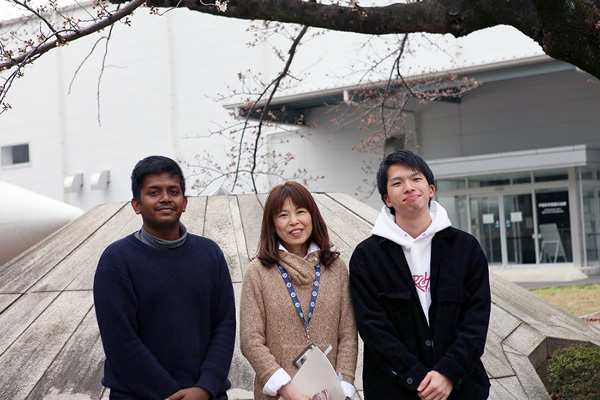 Links