ISAS Lodge

The Sagamihara Campus International Guest House (commonly called the "Lodge") is located on JAXA's Sagamihara Campus and provides accommodations for collaborative researchers, etc., who come from all over Japan and overseas to conduct research using the facilities of the Institute of Space and Astronautical Science (ISAS).
Guests Eligible to Stay
Usage of the Lodge is limited to when it is deemed particularly necessary for the business of the following individuals:
Those who are engaged in research and/or cooperative research conducted at Sagamihara Campus including students under supervision by JAXA.
Those who the director of the Management and Integration Department of the Institute of Space and Astronautical Science (hereinafter referred to as the "Director") deems particularly necessary.
Family members live with the individual above, but are not accepted to lodge only for family members....
Duration of Use
As a general rule, the duration for using the Lodge is limited to one month, but depending on the necessity for businesses, can be extended twice , once each month, for a total duration of no longer than three months.
If the Director approves a valid reason that the business cannot be achieved in three months ,the duration of use may be extended up to one year. Apply only to those who plan to work at ISAS for less than one year.
Reservation
Before making a reservation, be sure to:
 - consult with your ISAS Laboratory and have an approval.
 - read each item of the Index below.
Short stay

- You can make a reservation online
Long stay (over a month) and/or Reservations further than 6 months ahead
◆ Students who conduct experiments during night time or holidays.
 Experiments conducted by students at night time or holidays are prohibited at Sagamihara Campus.
 In case it is necessary to do so, please contact your supervisor in your laboratory of JAXA.
- Please contact Users Office ISAS_LODGE@jaxa.jp

 ※ If you live in working distance (living within 80 km from ISAS Sagamihara campus), you have to submit a written statement of the reason of staying in the ISAS/LODGE as you are unable to go home or come to ISAS because not in operation of public transportation.
If you are a full-time worker of ISAS, be sure to submit it through your supervisor. Other than that, a person in charge of your laboratory should be your approver. You may not be able to stay in the LODGE without prior submission.
Index
Online Reservation Linking to external website. The following URL will open new window.
Accommodation Charges
| | (Capacity) | (Accommodation charges per night) |
| --- | --- | --- |
| Single room | | ¥1,500 |
| Twin room | 2 people | ¥2,400 / room |
| Family room | 4 people | ¥4,200 / room |
| Japanese-style (single use) | | ¥1,600 |
| Japanese-style (shared) | 3 people | ¥1,100 / person |
Room Types and Details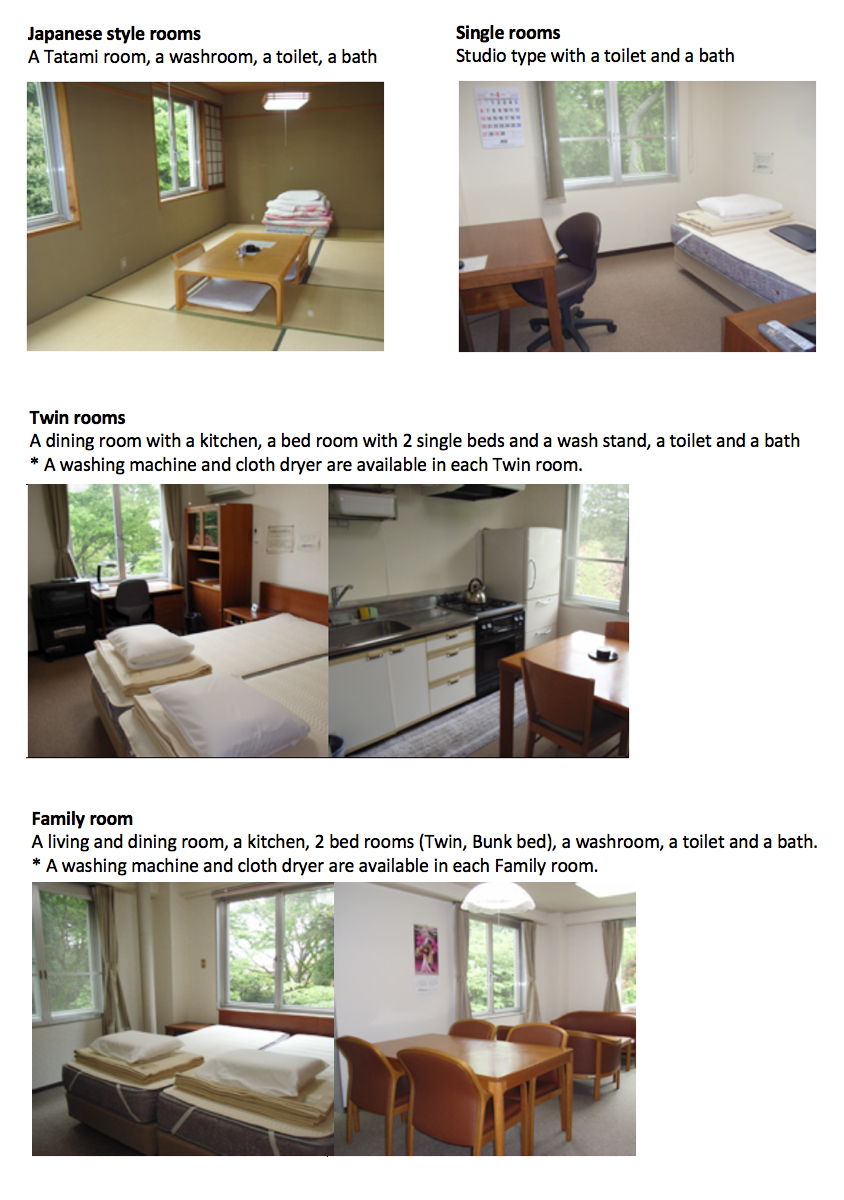 Check-in/Check-out
Check-in ― 16:00
Please receive your room key at the following location:
Weekday until 6 p.m. ― Users Office
Weekday after 6 p.m. ― Gate house
Sat,Sun or holiday ― Gate house



Check-out ― 10:00.
Return your room key either into the silver key box on the 1st floor of the Lodge or to the UsersOffice.
While staying at the Lodge, keep your room key in your possession, and be sure to lock your room when you leave. When going off campus, you must drop your key at the gatehouse.
Note that you will be charged the cost of making a new key If your room key is lost or damaged.
※Please do not send packages to the Users Office. Please contact your host laboratory.
Payment
Please pay your accommodation charge at Users Office. (weekday 9 am - 6 pm).
We accept Japanese Yen in CASH only, but NO credit cards.
Short stay:Either one day before your check-out or on the day of your check-out.
Long stay (over a month): Monthly payment.
We'll send you a notification by the end of each month.
Please notify the Users Office as soon as possible of any changes to your accommodation schedule.
Internet Use
We provide wireless LAN connection for JAXA external users in LODGE.
When you come to ISAS, please fill out required details on the connection page and follow each step.
After that password will be issued. Please refer to the manual in your room at the LODGE regarding details of the connection settings.
* For security keys, please contact your supervisor in your labratory of JAXA.
Housekeeping and Linen Supply
Single and Japanese-style rooms (Available for guests over 4 nights)

On your Check-in Date – 2 sets of linen (towels and bath mats) will be supplied.
 4~6 nights: There will be no room cleaning or additional linen supply.


 7 nights or longer:

On the 5th day after your check-in, staff will clean your room (10 am-1 pm)
and supply 2 sets of linen. After then, these services will be provided every 7days.
*The housekeeping and linen supply will not be done if the next day is a check-out day.
*This schedule is subject to change without prior notice due to national holidays etc.



Twin and Family rooms
Please clean your room and wash your linen by yourself. A vacuum cleaner, a washing machine and dryer are provided in each room.
Room Facilities
Each room is furnished with:
bed, air conditioner, air purifier, desk, chair, lamp, TV, DVD player, small refrigerator, telephone (extension), toilet, bath, and a closet.
Also available are:
linen (bed sheets, pillowcase, towels, and bathrobe), clothes hanger, shoehorn, slippers, liquid hand soap, body soap, Shampoo & Conditioner and hair dryer.
*The following are NOT provided:
safety box, tooth brush, razor or comb.
Use room facilities with care. Keep them clean and in good condition after use.
Kitchen
In the shared kitchen on the 2nd floor of the Lodge;
the following facilities are available:


induction cooker, large refrigerator, rice cooker, microwave oven, toaster oven, electric pot, 2 electric pots for borrowing, kettles, pots, pans, cups and dishes.


*They are available in each of the twin and family rooms.


the following rules must be observed:
・Handle fire carefully.
・Food must only be eaten in the kitchen.
・Wash used dishes and tableware, and return them to their original place to keep the room clean and organized.
・When using the kitchen late at night, be careful not to disturb other guests.

Laundry Room
The following facilities are available in the laundry room on the 3rd floor of the Lodge:
Washing machines, clothes dryers, a clothes iron and a pants press.
*They are available in each of the twin and family rooms.
Please keep them clean and in good condition after use.
Meals
A cafeteria, store and vending machines are located beside the Lodge.
Opening hours for cafeteria: 11:30 to 13:30 (weekdays only)
Opening hours for store: 9:30 to 16:30 (weekdays only)
Telephone
A telephone for calling internal numbers (extensions) is available in each room.
No Smoking
Smoking is strictly prohibited in the Lodge.
Please use the smoking booths on campus.
Preventing Disturbances
Please refrain from causing a nuisance (loud voices, noises, etc.) that may disturb others.
Emergencies
If a fire or other emergency occurs, immediately contact the front gate (ext. 28899).
Please maintain your own safety first and immediately evacuate.
Check the locations of emergency exits and fire extinguishers in advance.
Emergency helmets and gloves are placed in each room.
A folding emergency stretcher is placed in building staircase on 3F.
The first aid kit is located at the entrance to the common kitchen. Please use only the necessary dose.
Admittance
Note that the ISAS staff may enter your room for cleaning, etc., without notice.
Compensation for Damage
Note that users causing damage to Lodge facilities, equipment, etc., will be held responsible for immediate repairs or replacement.
Layout of Rooms and Facilities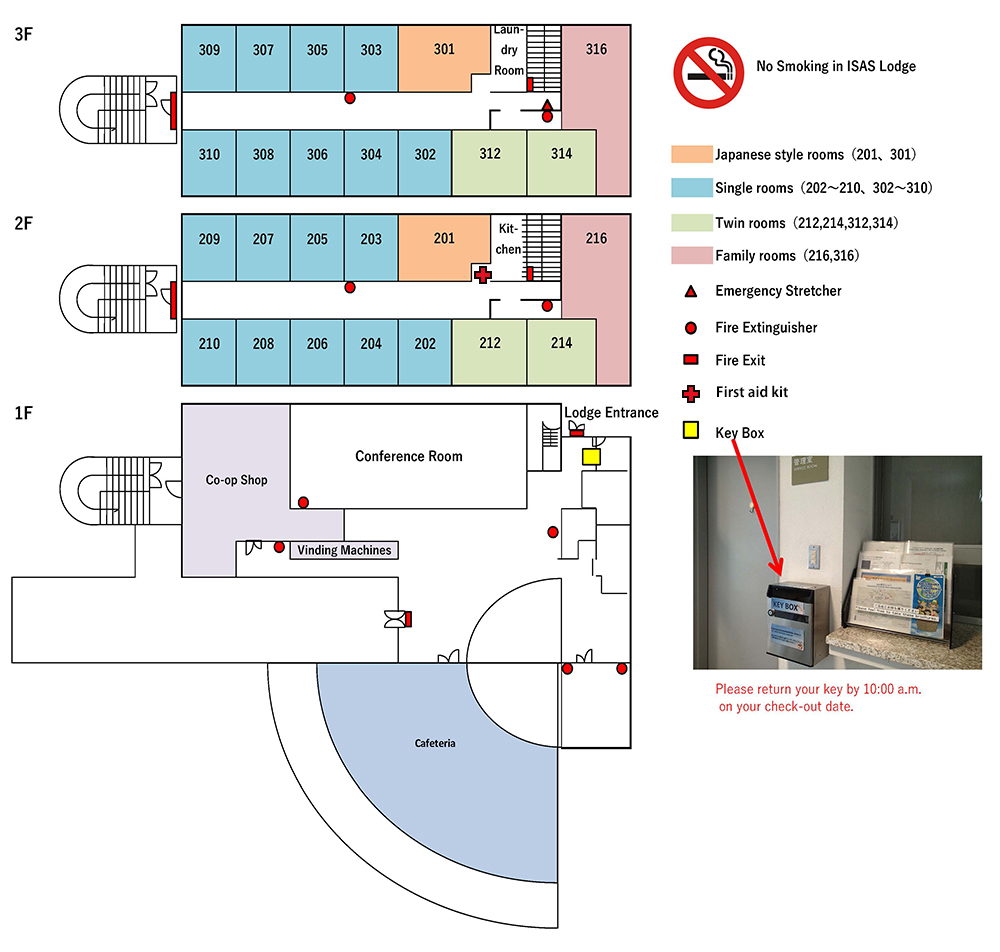 Contact
If you have any questions concerning the Lodge, please contact us at:
Users Office
Email: ISAS_LODGE@jaxa.jp
Open: Weekdays 9:00-18:00
[Reviced on Aug.28, 2019] Sagamihara Campus International Guest House (Lodge) Usage Guideline