TOP > Report & Column > The Forefront of Space Science > 2011 > The Challenge for Ultra-Small Satellites : Aiming at Great Innovation in Space Science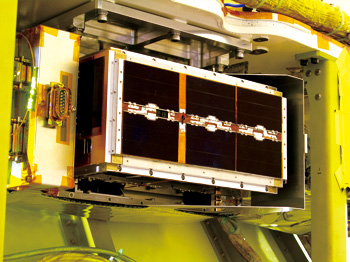 | | |
| --- | --- |
| Figure 2. | Cute-1.7+APD mounted on M-V rocket |
The ultra-small satellite Cute-1.7+APD shown in Fig. 2 is the second orbiting satellite of the Matunaga Lab. It was developed jointly with a science lab, Kawai Lab at the Tokyo Institute of Technology. The Matunaga Lab was responsible for the bus system while the Kawai Lab was responsible for the sensor system (avalanche photodiode sensor). The satellite was launched as a sub payload by M-V-8 in February 2006 and the initial operation succeeded. Operation ceased after less than one month, however, due to radiation damage. In October 2009, Cute-1.7+APD re-entered the atmosphere off Ogasawara Islands and vanished.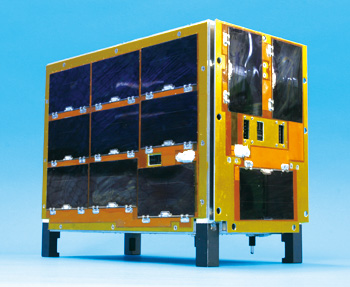 | | |
| --- | --- |
| Figure 3. | Cute-1.7+APD II |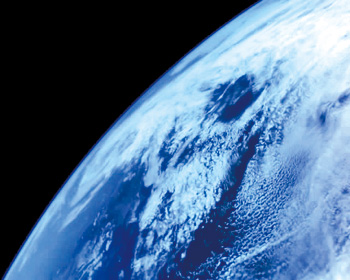 Figure 4.
Photograph over Japan taken by Cute-1.7+APD II
Kanto Plain is seen.
Cute-1.7+APD II in Fig. 3 is the third ultra-small satellite of the Matunaga Lab. Its design was considerably modified to improve reliability. It was launched by India's PSLV rocket in April 2008. The operation has continued over three years and many missions have been conducted successfully. A photograph of the earth (Fig. 4) taken by the satellite's ultra-small CCD camera was posted on the website of the Radio Amateur Satellite Corporation (AMSAT). Furthermore, its high-sensitivity APD sensor measured low-energy particles in all-sky for the first time in the world. A paper on this measurement was published in the most prestigious journal in the geophysics field. In addition, the paper was selected as the editor's choice for its quarterly edition.