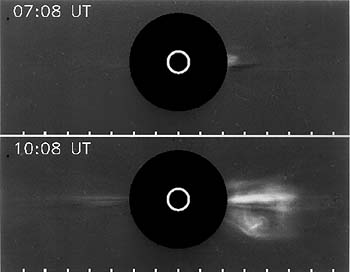 Figure 2. An example of a coronal mass ejection observed by the LASCO instrument on SOHO (January 15, 1996). The big bubble to the right is a classical CME structure, but quite interestingly these data show a jet-like ejection into the heliospheric neutral sheet to the left as well. The scale can be judged from the inset size of the Sun.
 A coronagraph is not the only way (nor even the best way) to detect a CME - their effects can be studied with in-situ observations by interplanetary spacecraft (GEOTAIL, WIND, SOHO...). They can be studied at the Sun during the process of eruption by Yohkoh (and now also by SOHO). The Yohkoh results are new and I will describe some of them here for the first time anywhere - from very recent data.
 The big news is that, as of late September, Yohkoh has succeeded at last in directly observing solar events that could verifiably be identified as coronal mass ejections. This means that we can begin to study the very initial motions of the matter as it begins to leave the Sun, and to understand the mechanism that drives it outwards.
 The event that occurred on October 5 is illustrated in Figure 3. It shows a complicated magnetic structure that evolves interestingly in time, and it shows "dimming". Dimming means that the X-ray corona becomes fainter with time, with the natural explanation that the disappearing mass actually becomes the source material for the coronal mass ejection.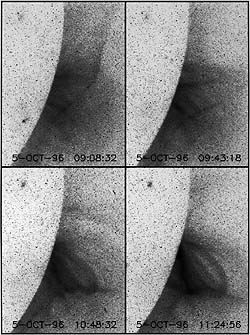 Figure 3. The Yohkoh observations of a CME on October 5, also well-observed by SOHO. The coronal brightness at upper right decreases with time, the dimming effect of the actual mass ejection, which the SOHO observations showed preferentially in the north. At this time the active region was two days beyond the solar southwest limb. The detailed evolution of the filamentary structures will provide us with interesting insights into the magnetohydrodynamics of the solar corona.