TOP > Topics > 2006 > Asteroid Itokawa came to be able to be observed from the ground-based telescope after a long time

Asteroid Itokawa came to be able to be observed from the ground-based telescope after a long time
Asteroid Itokawa, explored by the spacecraft "Hayabusa" last year, came to be able to be observed from the ground-based telescope after a long time. The image below is the one taken picture of with 105-cm Schmidt telescope at the Kiso observatory of the University of Tokyo by Abe and Kitazato on November 24, 2006. Itokawa is in the center of the circle on the image.

The brightness of Itokawa was about 21st of the magnitude. It was possible to detect it by stacking nine images integrated for ten minutes. When "Hayabusa" had rendezvoused with the asteroid last year, the asteroid Itokawa was not able to be seen from the ground because the asteroid was on the back side of the sun when seeing from the earth. It is in the direction of Gemini at the present. It appeared after an interval of about two years since September, 2004.

The distance from the present earth to Itokawa is about 0.78AU (120 million km). It approaches the earth up to the distance of 0.46AU (69 million km) once on January 22 next year. It approaches up to the distance of 0.28AU (42 million km) again on July 23 though it parts a little afterwards. The brightness of Itokawa seems to be brighter at the end of next January due to the sun phase angle.
"Hayabusa" is in a place away from Itokawa at about 52,000 km, and stands by, before starting the ion engine for the earth return in about next February.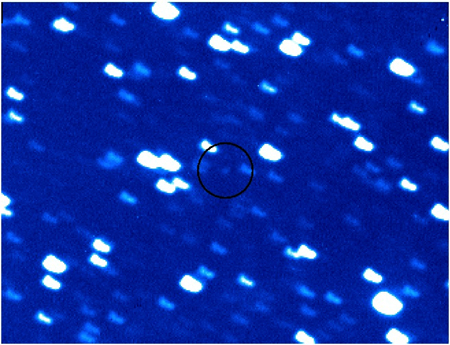 Figure: The image was acquired by synthesizing nine images integrated for ten minutes from 13:26 UT on November 24, 2006. R band filter was used. The view size of the image is 16.2 minute x 12.4 minute. Itokawa is in the center of the circle. Itokawa moved in the direction of the northwest (Top-left of the image). Large picture
[Click image for enlargement]