TOP > Topics > 2002 > "Space Day" Fureai Festival 2002

"Space Day" Fureai Festival 2002
Space Day, which was established in the International Space Year of 1992 in an effort to promote a deeper public understanding of space, celebrated its 10th anniversary this year. Sponsored by the Ministry of Education, Culture, Sports, Science and Technology, ISAS, National Astronomical Observatory of Japan, National Aerospace Laboratory, National Space Development Agency, National Museum of Emerging Science and Innovation, Japan Space Forum and Young Astronauts Club-Japan, the "Space Day" Fureai Festival 2002 was held in the Matsue Terrsa, Matsue City, for 3 days from September 15 (Sun.) through 17 (Tue.) under the theme of "Space. It sounds like fun."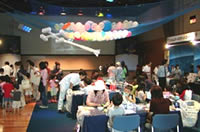 Each organization brought a wide variety of projects designed specifically for children to experience space firsthand. Everyday, the place was crowded with families making paper globes or simplified astronomical charts, making and flying paper planes or skyscrews, being startled by the loud launching sound of alcohol-fueled petit rockets or creating a picture of oneself in a space suit.

Approx. 300 prints of YOHKOH-borne solar images brought in by ISAS were output and 2000 pieces of paper craft in 9 different kinds were also made. However, what attracted adults most was the famous Miura-Ori (folding method). Even the staff were so intrigued that they kept trying many times.

In the dome theater on the 7th floor, various events were also carried out such as lectures by sponsoring organizations, a live relay of the National Museum of Emerging Science and Innovation, a string quartet performance by local amateur musicians, etc. In the second venue of Kunibiki Messe, a "Space Talk Show" by Satoshi Furukawa, a Japanese astronaut, was held.
As this was the first time for us to organize this type of an event, we were a little anxious before it started, but we were happy to find that approx. 3000 people visited the venues during the 3-day period.