TOP > Topics > 2002 > Robo Festa "Rover Roundup"

Robo Festa "Rover Roundup"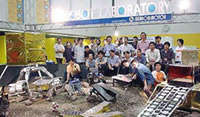 Robo Festa Kanagawa 2001 at Sagamihara was held in the surrounding area of Fuchinobe Park from October 6 to 14. Robo Festa is the world's first festival of comprehensive scientific technologies on the theme of robots held in relay by linking cities of Yokosuka, Kawasaki, Sagamihara and Yokohama. At the Sagamihara venue, on the theme of "The Universe ~ To the New Frontier," the latest technologies in space science and robots were introduced where ISAS participated as a special cooperative organization.
When it comes to the universe and robots, it is space probe rover's turn. Four-wheel rover, hexapod robot and hopping robot now under development by ISAS aiming at the future moon and planetary missions were put on display. Micro 5 jointly developed by Chuo University, Meiji University and ISAS made a demonstration, where it descended the slope of the landing module and walked around probing the simulated moon surface made by sand and rocks. The images taken with its onboard camera seemed to give the audience an impression that it was really probing the moon.
On the last day of the Festa, rovers gathered together from Tohoku University, Tokyo Institute of Technology, Chuo University, Meiji University and NASDA as well as ISAS under the theme of "Rover Roundup", and displayed their special abilities. It was a great opportunity to introduce different types of rovers to the visiting children and to have academic exchanges among researchers.
With collaboration from the Planetary Society of Japan and Young Astronauts Club-Japan, we let children manipulate a red rover, just as we did at our Open House. They get to manipulate the rover placed on the simulated Mars surface via computer looking at the images sent from an onboard camera. The children's bright eyes as they were fascinated by the Mars probe left a deep impression on us.