TOP > Topics > 2002 > "Japan Booth" won the Highest Prize in the exhibit division at IAF Exhibition

"Japan Booth" won the Highest Prize
in the exhibit division at IAF Exhibition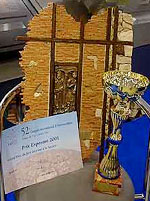 The 52nd IAF (International Astronautical Federation) Congress, which is the world's largest symposium in aeronautics held annually with the member countries taking turns, was held in Toulouse, France, in 2001. In the venue of the Congress, Place de l'Europe Centre de Congres Pierre Baudis, an Exhibition was held concurrently at a specially prepared exhibition site (tent) for 5 days from October 1 to 5. While the Congress was held under a heavy guard against terrorism, the exhibition had exhibits of 51 booths from all over the world and approx. 2,100 visitors ranging from the old to small children.
From Japan, three organizations of NAL (National Aerospace Laboratory) that participated the Exhibition for the first time and regular members of ISAS and NASDA (National Space Development Agency) jointly exhibited as a "Japan Booth". ISAS exhibited a 1/10 miniature of M-V rocket and various satellite miniatures of future missions.
On the last day, the Exhibition executive committee announced the competition results and the Japan Booth won the highest prize in the exhibit division along with a cup and artistic plaque.