TOP > Topics > 2000 > Open house held

Open house held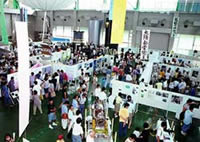 The annual open house of ISAS Sagamihara campus was held on Saturday, August 26. Perhaps because the day was blessed with fine weather this year and coincided with the last weekend of the summer holiday, many families were noticeable among the visitors. Many elementary-school-age children took notes intently, probably as part of their final effort for summer-holiday homework.
The exhibitions, demonstrations, lectures, and video screenings were held at 41 booths in six venues this year. Because a new building is being constructed in the ISAS courtyard, Kyowa Elementary schoolyard was used for the water-rocket launch. It was impressive that the rocket with parachute was launched in time to a count down by the children. The open house project has increased in scale every year, and this time saw the addition of new experiments such as photoluminescence and measuring the size of space (X-ray astronomy).
In response to requests to "make the explanations easy to understand," the booths featured imaginative computers, pictures and posters. There were so many visitors that the parking lot was filled to capacity on the day, sequentially-numbered tickets for the water rocket show were used up in no time, video screenings were filled to overflowing, and lines of people formed in front of each exhibition. The total number of visitors was about 25,000, a new record for the number of visitors.